Green fertilizers
Green fertilizers are natural substances that can be added to the soil to increase its fertility. This includes manure, compost, peat moss, seaweed extracts and bird and bat guano, as well as a variety of other substances. Green fertilizers have lower concentrations of nutrients than chemical fertilizers, so they often give results that are less […]
more…
Soil aeration and drainage
Soil aeration and drainage Over the years, I've experienced only minor problems associated with inadequate soil drainage. This surprises several of my gardening colleagues since I have frequently worked in regions where rainfall exceeds evaporation and contributes to an elevated groundwater. In retrospect, I was fortunate to work on private estates where adequate garden drainage […]
more…
Soil texture and soil structure
As a professional gardener, I have encountered some beautiful and well structured soils in my time. As with most aspects of nature, there are plenty of mediocre and poor soils to maintain the overall balance. I'm not exaggerating to say that I've also brushed up against a few of these from time to time. From […]
more…
Weeds you can eat
Please Eat the Dandelions: 9 edible garden weeds Here are some of the most common garden weeds that can be used for both meals and medicine: 1. Dandelion: The quintessential garden and lawn weed, dandelions have a bad reputation among those who want grass that looks as uniform as a golf course, but every part […]
more…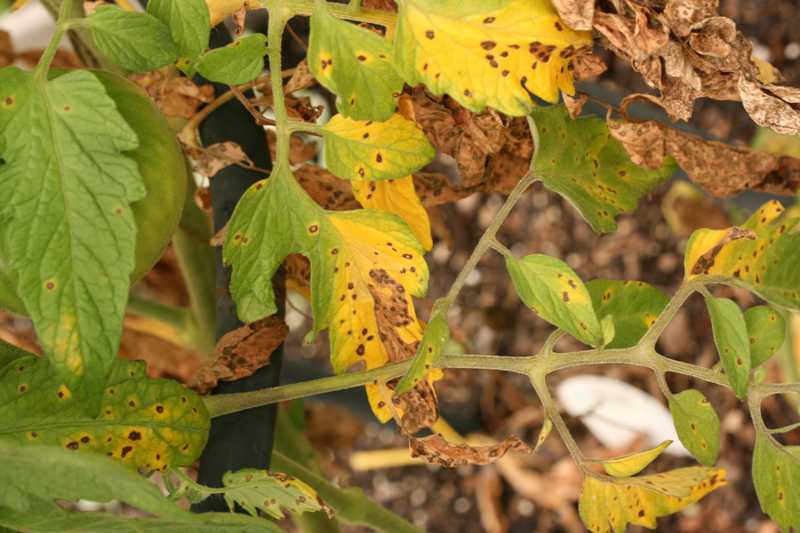 Tomato Blight is Here
It is time to start checking your tomatoes for early blight – the tell tale signs of yellowing leaves with browning and/or brown spots. As per your Grow Regina Garden Guidelines, all infected leaves/branches must be bagged and removed from the garden immediately to control the spread. Tomato leaves that have spots that begin as […]
more…
Powdery Mildew on Vegetables
Powdery Mildew on Vegetables Important: As per Grow Regina Guidelines, all diseased plants must be bagged and removed immediately from the community garden. Do not compost diseased materials. Also, make sure to throroughly wash your hands after touching blight-infected plants. You could accidentally spread the disease to other plants if the blight spores are […]
more…
Orchard Tree Sale 2014
Orchard A Orchard A is the group of trees located closest to Queen Street. Some of these trees are privately owned and others have been planted for the enjoyment of all gardeners. The initial planting of trees was in 2008 as part of a Memorial Orchard initiative, but due to some unforeseen challenges of nature (such […]
more…
Orchard Work Bee – July 5th – 8:30am
Hello Fellow Tree Huggers & Bee Lovers, Note: Correction to Orchard Mulch Work Project – I misunderstood what Lionel wanted. Yvette will oversee the weeding party on July 5th starting at 8:30 am IF I can't be there. Bring water, gloves, large plastic bags for weeds, large flat shovel if you have one and grap a couple […]
more…
Path weeding bee … and bees!
Hello gardeners, Well it has been pretty soggy for garden work but hopefully now we are due for some sun and heat! I was over at the gardens this evening and I was thrilled to see dozens of bumblebees and honey bees buzzing around our raspberry patches – we are doing something right! After all […]
more…
Secret to Successful Living – Healthy Soil!
We walk on it and eat from it … and basically take it for granted. Soil The stuff from which we draw our nourishment and create our surroundings. The foundation of our life on planet Earth. Quality soil can happen naturally. But it's based on one main equation: what you take out, you must put […]
more…